Use Google Trends to Gain Valuable Insights for Free
Google has just released their year-end review of search trends, which they call Google Zeitgeist. It's mostly interesting from a personal perspective to see the stories and people that were big in 2009. However, I think it can also be useful for marketing professionals.
Reviewing this list will give you an idea of the topics that are top-of-mind for your audience. This can help you sculpt your marketing messages to better reach your target market. While the Google Zeitgeist is a compilation of 2009 trends and information, Google actually provides much more comprehensive information on their Google Trends site. If you haven't played around with this, you really should.
The most basic way to use this tool is to get an idea about the popularity of any search term over time. For instance, the following graph shows the search volume for "obama". To the right are example news stories that may help explain the spikes in the graph. The bottom graph shows the number of news stories about the topic.

This type of search can be helpful to get an idea of how a topic is trending over time. However, where things really get interesting is when you start comparing different search terms by separating them with commas. For instance, below is the search traffic for "mcdonalds", "burger king" and "starbucks" compared over the last 12 months in the state of Indiana.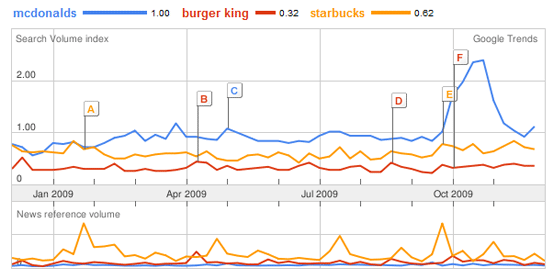 You could use this sort of search for competitive purposes if your company is large enough to show up. However, even small businesses can find useful information. For example, as a marketer you might compare something important to your own marketing plans or interests like the relative popularity of social media sites.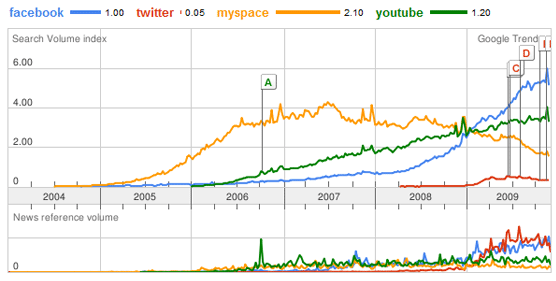 One interesting thing to notice is the major disconnect between the search popularity and the news story popularity. Twitter gets a lot of news coverage, but has very little relative search volume compared to the others. It's also interesting to see the decline of MySpace and the ridiculous rise of Facebook.
This kind of competitive company comparison is one way to use Google Trends, but you can also compare topics. For instance, what if I wanted to know what people search for when they are looking for a company like Villing & Company?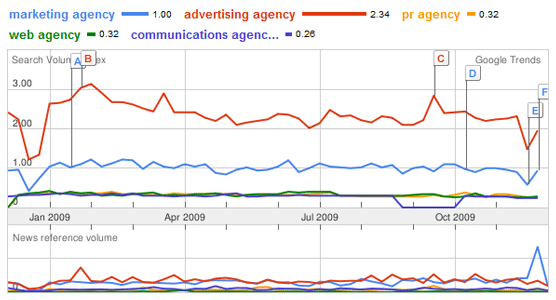 This chart shows that people search for "advertising agency" much more than any of the other marketing-related agency searches. So what does that mean? On one hand, it might be better to call ourselves by the name that is top-of-mind for most people. This would seem to provide the best opportunity to show up for the most popular searches. On the other hand, one could make the case for building awareness using a relatively UNpopular term. That way, people searching for that term based on our actual messages will be more likely to find us. It all depends on one's strategy.
Obviously, this information shouldn't be used indiscriminately when making critical business decisions, but it can be a useful tool for a quick comparison of the top-of-mind popularity between two or more terms. Plus, since the information can be filtered by country, state and time period, it can provide very specific and useful information about local trends.
To get our latest articles when they are posted, please subscribe by e-mail or RSS.