Villing & Company Takes Home Three ADDY Awards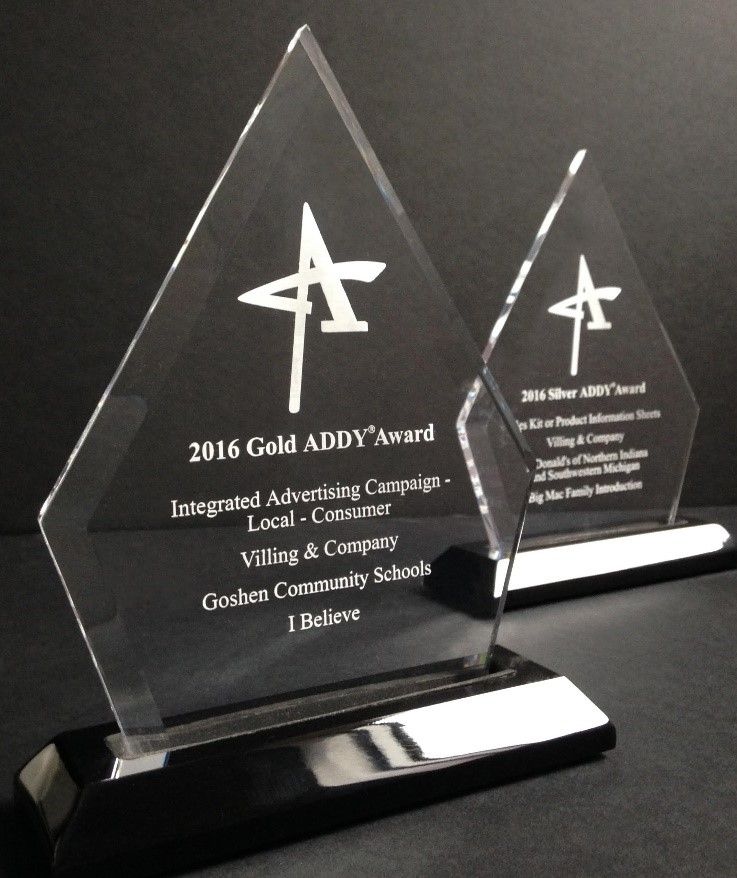 Villing & Company won three ADDY Awards, including a Gold Award for Integrated Advertising Campaign, at the American Advertising Federation Michiana Chapter ADDY Awards Gala held March 29 at the Pfeil Innovation Center in South Bend.
The Gold ADDY was given for the Goshen Community Schools "I Believe" campaign, which included website design and ad creative as well as multiple TV spots. Below is one of the television ads we created, and you can see the web design and creative executions of this campaign by visiting the featured work section on our website.
Villing & Company was also awarded a Silver ADDY in Sales Kit or Product Information Sheets for the Big Mac Family Introduction created for McDonald's of Northern Indiana. The agency also received a Bronze ADDY in Poster Campaign for the South Bend Civic Theatre show posters. The agency has received multiple awards over the last decade for the Civic Theatre poster designs.
We at Villing & Company are so pleased to be part of such a vibrant creative community and to work for such valued clients. We're very honored by these awards, and we look forward to producing work that continues to provide creative and effective solutions for our clients.
To get our latest articles when they are posted, please subscribe by e-mail or RSS.