Branding's Big Game: Are Super Bowl Ads Bigger than the Game Itself?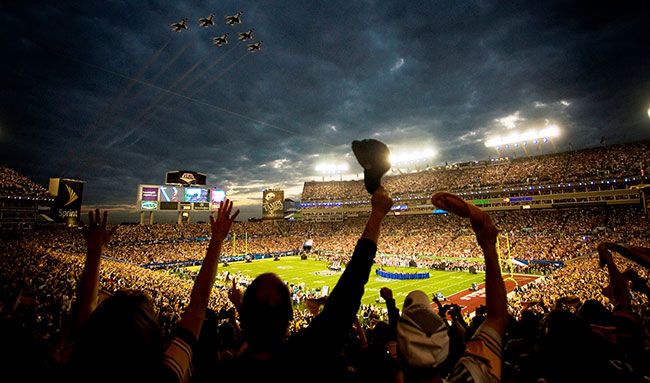 Growing up, I was as big a football fan as you'd find. My team of choice was the Indianapolis Colts, and I had Peyton Manning and Marvin Harrison posters in my room. So when the calendar flipped from January to February, I knew it was time for the Super Bowl. Unfortunately, my Colts haven't made it to the Super Bowl as much as I would have liked, but they did send me to the game a few years back, so we'll call it even.
As I've gotten older, however, it seems there have been more and more rumblings about the game itself taking a back seat to the advertising. Maybe that's more a product of beginning my own career in the marketing industry and being more plugged into that crowd. But it's hard to deny that Super Bowl ads are a bigger deal now than ever before.
According to Fortune, advertisers spent an average of $5 million on 30-second commercial slots for this year's game. We're used to seeing companies shell out big bucks for the big game. But what seemed different about this year is how brands built content machines around their Super Bowl ads.
Ad teasers were released early on Youtube. This meant that many people had seen a majority of the ads before the game even began. While this might make the live viewing of the ads less important, in my opinion, it has spread the Super Bowl ad fever even further.
Take the strategy that was used by Snickers, for instance (which you can read about in this article from Adweek). This year, the candy brand aired the first-ever live Super Bowl ad. Leading up to the live ad, Snickers held a 36-hour livestream from the set. They also unveiled four teaser spots, and they said that all of this was part of a "fully integrated 360 campaign to reinforce the brand's connection to hunger satisfaction before, during and after Super Bowl LI."
Honestly, it reminds me of the buildup to the actual game. In the week before the Super Bowl, you have Media Day and all the content and commentary surrounding that. Then you have the frenzy of discussions about game plans and strategies in the days leading up to the game.
As long as there is an audience for this (which it seems there most certainly is), I have no problem with it. But, will we ever reach a point where building entire campaigns around a 30-second spot developed for one day a year starts to feel like overkill? If so, how close are we to that point?
As you ponder those questions, consider marketers who used their 30 seconds of fame on game day not as the foundation for content and campaigns but as an integral part of a larger story.
Budweiser, long a stalwart of Super Bowl Sunday, used this year's ad to tell the story of the brand's co-founder – Adolphus Busch. This article from Adweek takes an in-depth look at the making of the ad. In it, Budweiser vice president, Ricardo Marques discusses how this ad is a part of a larger strategy in the years to come.
This strategy has been used before to great effect. For instance, many point to the 1984 Apple commercial as one of the greatest Super Bowl commercials of all time. It only aired once on television. However, it was tied to a larger brand story about how Apple was part of a revolution. This gave it a much longer shelf life. Am I saying Budweiser's ad will follow in Apple's footsteps? No, it's surely too soon to make that claim. However, it does seem to adopt a quality strategy of integrating a brand story.
When you spend such large amounts of money on one ad, it makes sense that you'd want to make the most of it. I just wonder if connecting the Super Bowl ad to a larger brand story is a better strategy for doing so than making the ad the focal point. Only time will tell.
To get our latest articles when they are posted, please subscribe by e-mail or RSS.