The Beginner's Guide to Google Analytics Part 3: Content
This is the final installment of this series, which aims to be an easy-to-understand guide to Google Analytics for marketing professionals. In part one, I wrote about the audience reports; in part two, I covered the traffic sources section.
In this article, I'm going to discuss the content section, which is the best place to go to figure out which pages and sections of your site are successful and which might need some work.
Here are the highlights of the reports in this section: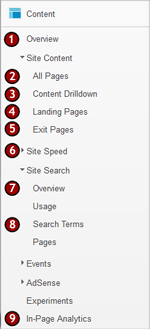 Overview: In this case, the overview screen isn't very useful. It summarizes the section, but leaves out most of the interesting details.
All Pages: This report lists every page on your website with information about the page's traffic. In short, it's an easy way to view your most popular pages, either by URL or by page title. Depending on how readable your site's URLs are, it might be easier to understand this report when you view by page title. However, since there can often be duplicate page titles on your site, I usually prefer to view by URL. This means there's a big advantage to having clean, readable URLs on your site, rather than something that looks like "/index.asp?view=product&id=202830". Most content managements systems allow you to create "clean URLs", so these reports would look more like this: "/store/products/books/crime-and-punishment/"
Content Drilldown: This is one of my favorite reports, because it lets you view your pages by section. Not only can you compare activity of major sections of your website, but you can also compare pages within the same section to each other. Your site must use clean URLs to make the most of this report.
Landing Pages: This report is very useful for marketers, since it shows you the first page visitors see when they come to your site. The top page will often be your home page, but it can be interesting to see what other pages show up high on this list. This usually means that people are bookmarking the page directly, clicking in from another website or responding to online or offline advertising.
Exit Pages: This report shows the last page visitors see before leaving your website. It's important not to read too much into these numbers, since often people will leave the site after they've found what they're looking for—which is a good thing. However, I often look through this report to see if there are any oddities that could indicate a problem with a page.
Site Speed: If you're concerned about the download time of your website, this report can give you an overview of the download time on certain pages and in certain browsers. If your page takes more than a dozen seconds or so to load, you should consider better optimizing your images and code to reduce that time. However, every site is different, so before radically changing your site, it's important to do tests yourself to see if the site appears sluggish.
Site Search Overview: If you have a properly configured search box on your site, you can use this report to see how many people are using the search engine. Depending on your site, a high level of search engine use might imply that your navigation could be better organized. Of course, for very large sites, it's much more expected and understandable.
Search Terms: It can be very interesting to see exactly what people are searching for on your website. Common search terms might give you ideas for future content, or indicate something that is difficult to find on your website.
In-Page Analytics: I've had mixed results with this feature of Google Analytics. Sometimes the overlay doesn't work quite right, but when it does, it can provide an interesting view of where people click on any particular page. This can give you very specific details of how your visitors are using your website. As you can see in the screenshot below, your site is overlayed with tiny orange boxes that show the percentage of visitors who clicked each link.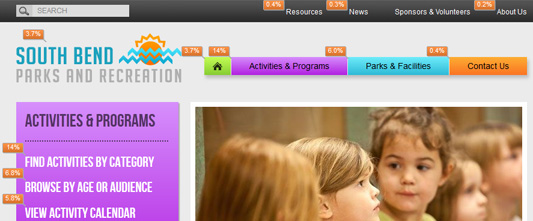 To summarize, the content section of Google Analytics helps you to find what visitors are actually viewing on your website. Monitoring this area can help marketers to plan for future website updates by determining what is successful and what isn't.
To get our latest articles when they are posted, please subscribe by e-mail or RSS.