Holiday TV commercials: From the ridiculous to the sublime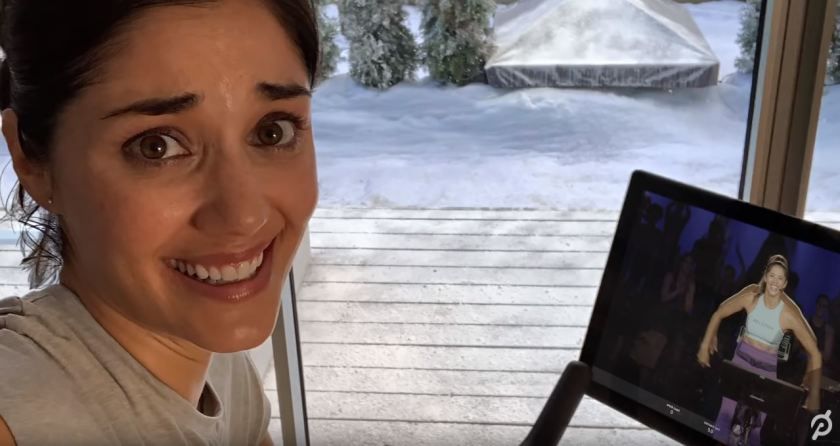 Actress Monica Ruiz in a screenshot from a Peloton bike commercial.(Peloton / YouTube)
All the nonsensical social media reaction to this year's Peloton ad got me thinking about the true spirit of holiday commercials. Before I go there, let me just say that, in my opinion, the outcry about the Peloton spot was much ado about nothing. I don't think the commercial should be viewed as a husband shaming his wife or any of the other negatives ascribed to the spot by people who clearly have too much time on their hands. It was just another silly holiday commercial in the spirit of advertisers advocating ridiculously expensive gifts for spouses. Now a $2,500 Peloton is more than a bit less expensive than a $50,000 Lexus but in either case not too many people in my circles go to those extremes.
We saw someone kissing Santa Claus
But there are holiday spots and there are holiday spots. Most are blatantly commercial, intended for nothing more than to leverage Christmas giving as a reason to promote buying certain products. Whether it is fitness equipment, a new car or jewelry, the agenda is clear. Give your spouse an expensive gift and get a token of appreciation in return. After all, "every kiss begins with Kay." Even if you're Santa Claus.
The holiday commercials I've always enjoyed are the ones that tell a story and touch the heartstrings. You might think of them as video Christmas cards. They may be sappy. They may be silly. But the really good ones are refreshing and emotionally powerful.
One of the highlights of my career as copywriter was a Christmas spot we created for Martin's Super Markets. Since it was produced before the digital age, I don't have a copy to show you here but it all centered around family Christmas traditions. There was no sell to the spot. Just a few randomly placed food items subtly scattered through the various scenes. Overall, it was mostly a nice, feel-good statement from Martin's to its customers at this special time of year.
Sadly, not many local advertisers invest in this kind of commercial anymore. A number of national brands do, however, so I thought I would share with you some of my faves – present and past.
Anna sings about her favorite things
This new spot for Frito-Lay featuring Anna Kendrick singing about her "favorite things" ranks high on my list. To be sure, company products are have plenty of face time. But it is the way the appearance of these branded goodies are cleverly woven into the lyrics of the song that makes the inherent commercialism harmlessly.
Gap's "Gift the Thought" (Hoodie) commercial is a nice use of time lapse, slice-of-life messaging. The final scene of a young adult unwrapping a Gap hoodie is a bit corny, but the video journey is enjoyable even if the pay-off is a bit contrived.
Oreo's "First Christmas" is an extremely creative use of story telling. In this spot, a "rookie" elf learns the true meaning of leaving cookies and milk for Santa. Smartly written and produced, this commercial does not disappoint.
To the best of my recollection, Hobby Lobby has never been known for exceptional advertising, but this spot bears watching. And the campaign tagline, "Christmas is what you make of it" (and title of the commercial) is advertising copy craftsmanship at its best.
Certain brands we can always count on to do holiday commercials right include Macy's and Apple. Macy's "Santa Girl" spot uses the element of surprise to discreetly address social themes like bullying and sexism and ultimately transforms it into a sweet narrative of a little girl who wants to be Santa Claus when she grows up. Speaking of surprises, Apple's "The Surprise" is not particularly sweet or endearing until the end. Featuring classic scenarios of entertaining kids during a long car drive and a grumpy granddad who isn't particularly lovable, this commercial redeems itself with a powerful conclusion. Again, maybe a bit contrived, but heartwarming nonetheless.
A few holiday blasts from the past
Looking back to some of the GOAT (Greatest of All Time), these vintage holiday commercials top my list.
Perhaps the ultimate video Christmas card was the 1987 Budweiser Clydesdales spot. In fact, it literally turned into a Christmas card.
M&Ms has a classic as well. In fact, "They Do Exist" has been reprised again this year for our holiday viewing entertainment. With good reason. The message is timeless.
Another timeless brand, and commercial is "Snowman" from Campbell's Soup. Hard to believe that spot first aired some 20 years ago.
Last, but by no means least, the Coca-Cola polar bears have been a holiday treat since the late 90s as well – and they are just as adorable today.
On that note, Happy Holidays, everyone. See you on the flip side of the New Year.
To get our latest articles when they are posted, please subscribe by e-mail or RSS.