Interested in Virtual Reality? Get a Strategy First.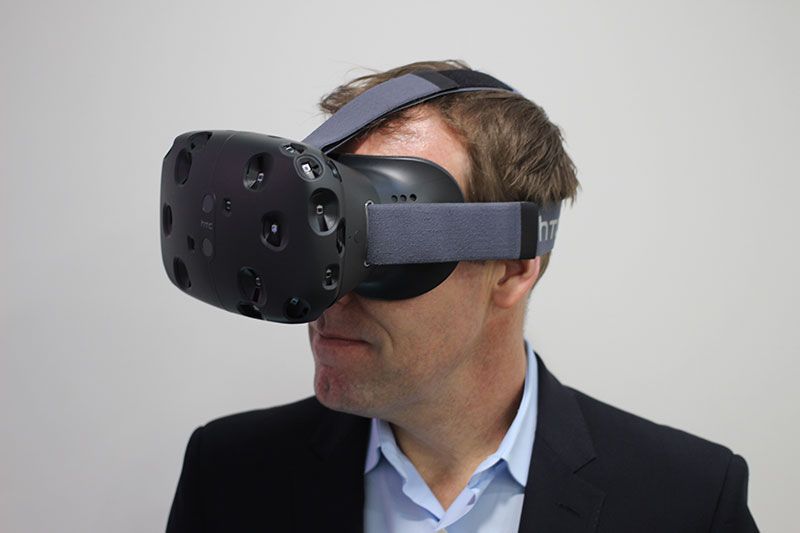 Virtual reality (VR) has long been lauded as the way of the future. Now it's becoming, well, reality. With the release of the Facebook-owned Oculus Rift VR headset on March 28, 2016, VR became available to the masses, or at least those willing to shell out $600. Now others, such as the HTC Vive (pictured above), have joined the party. According to Digi-Capital, VR is on track to become a $30 billion industry by 2020. As marketers, the next obvious question becomes – how do we leverage this emergent media platform?
Slow down for a second. Just because it's the "next big thing" doesn't mean you should quickly dive into VR without surveying the landscape a bit. Just as we did when social media started to take off, the Villing & Company team encourages clients to exercise due diligence about this new technology and its potential marketing benefits. Then, you can begin to form a sound strategy before leveraging any new platform, including VR. The tactics you use with VR might be new, but the strategy behind them should stay the same. So here are a few things to keep in mind as you explore VR as a marketing platform:
Your target market – Don't put the cart before the horse. Before you even start considering a new platform, you need to know where your audience is spending their time. If they aren't on the platform you're considering, then why consider it? Do some research by polling your current customers to more clearly understand your target market. Where do they spend their time online? Have they ever used VR before? Do they envision using it in the near future? The results from your research can help guide your platform decisions.
Your goals – Once you know where your target market spends their time, you have to outline goals for any new platform you're considering. Are you going to use this platform to bring in new customers or is it mainly going to be targeted towards engaging your current customer base? How will you define success? Do you need to tie this platform directly to an increase in sales? Define your goals for the platform at the outset. It will save you a lot of headaches later.
Your budget – Especially with burgeoning tech like VR, the price tag can get pretty high. According to this article from Digiday, production of VR content routinely costs over $150,000. If that type of commitment doesn't fit in your budget, it's probably not a good idea to make a foray into the new platform.
Your team – Take a look at your organization. What are the skills of your team? If you don't have anyone who is capable of creating VR content, you'll need to hire someone or connect with another organization or freelancer. That takes us back to the budget. If you do have someone, great! But just because you can doesn't always mean you should. Talk with your team to see if VR is a piece you feel comfortable adding to your marketing mix.
Your content – The final piece of the puzzle is a pretty big one – content. Obviously, if you're going to succeed with VR, you need content that makes sense on that platform. This is really where VR becomes exciting. It's also where you should definitely stray from the norm. Don't assume that you'll be able to cut and paste your 30-second TV spots into VR and see success. The whole point of virtual reality is to immerse users in an experience. A good place to start is with 360-degree video. You can also integrate with more simple viewers like Google Cardboard – the most inexpensive VR headset on the market. If you really want to get serious with VR, you can create your own branded headset – like McDonald's did with their Happy Meal VR Headset. Your content should be interactive and immersive. There are many examples of quality VR content online, but one of my favorites was the online marketing for Best Picture nominee "The Revenant" back in January.
In the end, it all comes down to being strategic with your marketing. Don't be swayed by all the latest tech and gadgets. If something doesn't make sense for your specific brand situation, don't do it. But it's always a good idea to research new platforms to see if they could give you an advantage over your competition. If you are interested in creating VR content, this article from Inverse.com showcases five apps that can help you get started. With a sound strategy, you'll be on the right track.
To get our latest articles when they are posted, please subscribe by e-mail or RSS.