Long Live Outdoor: Why This Traditional Medium Will Be Around for the Long Haul
As someone who came up through the marketing ranks via the traditional media outlets, it's nice to see one of the old standbys, outdoor advertising (or out-of-home marketing as the genre is sometimes called), still as relevant today as it was twenty years ago - perhaps even more so.
I say more so because of outdoor's ability to still capture a mass audience in a world of increasing fragmentation due to MP3s, satellite radio, DVRs and everything else out there that tend to restrict marketing messages to the masses.
As my colleague, Nathan DeSelm, so delicately admitted in a December blog boasting his imperviousness to marketing messages: "outdoor/environmental advertising are sometimes able to sneak through, basically because there doesn't seem to be any way to avoid it short of gouging out my own eyes."
And because most of us are (fortunately) unwilling to go to such extremes to avoid out-of-home messages, the outlook of the medium appears to be bright for many years.
Not only can outdoor still effectively reach a local or regional audience through a dedicated campaign of multiple billboards - its traditional intention - but it also has the unique potential to set off a virtual firestorm of awareness with the placement of one simple billboard - due in large part to the Internet and social media.

If you live around South Bend, remember the national attention that a bulletin above a local watering hole near the University of Notre Dame drew in September when it offered ''Best wishes to Charlie Weis in the fifth year of his college coaching internship.'' The billboard was only up a short time (three days) before being taken down, but in that short period of time, that one 14' x 48' piece of vinyl garnered enough attention to be picked up by The New York Times and ESPN among dozens of other national outlets. All totaled, Google reports over 27,000 results when you search for "Charlie Weis billboard."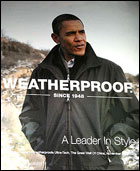 Then there's the publicity that coat-maker Weatherproof Garment Co. received from its recent Times Square ad featuring President Obama wearing one of the company's coats while standing atop the Great Wall of China. Weatherproof had paid for the Associated Press image and highlighted it on a billboard in the Big Apple's highest-profile spot. The company has since agreed to remove the ad at the urging of the White House.
Again, it was another short-lived campaign and one could question the integrity of the company's tactics, but Weatherproof definitely got its money's worth for their week in the spotlight.
I believe the real strength of out-of-home marketing over the next decade will be its ability to continually push the traditional boundaries to find new ways to reach people when they are out and about. A few years ago, Villing & Company attracted a great deal of local attention with a nearly 40-foot banner on the side of a downtown parking garage promoting the upcoming McDonald's High School All-American Games in South Bend.
Speaking of fast-food, an excellent recent example is the news that KFC is giving Indianapolis and nearby Brazil, IN $7,500 so it can emblazon founder Colonel Sanders' face on hydrants and fire extinguishers to promote new "fiery" chicken wings. KFC told the two cities that it wanted to improve their fire safety by helping pay for new hydrants and extinguishers in public buildings in exchange for ads on them.
A January 7th Associated Press article about the campaign added that "experts say to expect more ads on public property as companies look to cut through the clutter of traditional advertising. Cash-strapped governments have long sold space on mass-transit vehicles, benches, trash cans and other public property to help stretch budgets."
If that is indeed the case, this is one traditional media outlet that, by adapting to the changing media environment and seizing emerging opportunities, is well on its way to securing its relevancy for at least another 20 years.
To get our latest articles when they are posted, please subscribe by e-mail or RSS.