Marketing That Moves: The Power of Storytelling Revisited
"There's an old proverb that talks about when children are born, children come out with their fists closed because that's where they keep all their gifts. And as you grow, your hands learn to unfold, because you're learning to release your gifts to the world."
As I was driving into work this morning, I heard this quote as part of the Story Corps segment on NPR. It involved a father talking to his young son about the dreams he has for the child's future. These segments rarely fail to bring a tear to my eye. And they reminded me once again of the power of storytelling. Whether the story is part of a news article, a simple conversation, a good book or even in the context of marketing communications, a compelling narrative well presented has unique, yet universal power - the power to make an emotional connection with people.
This hardly qualifies as a great or new insight. Untold numbers of industry thought leaders have stated this premise far more eloquently than I ever could. But sometimes in our desire as marketers to convince people to engage with our brands, we focus on the facts and features and not on how they can impact the human spirit.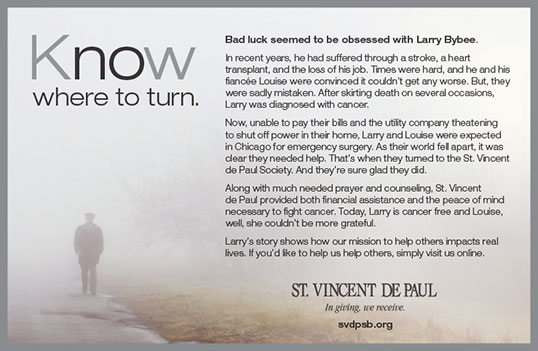 Realistically, this is easier to do for some products and services than others. Just this week, we produced a new ad for our client, the St. Vincent de Paul Society. Their story is inherently about serving those in need. Stories abound and are embedded in the very fabric of the services offered by the Society.
But what about manufactured products? Are there also opportunities to create compelling stories in the world of widgets, nuts and bolts? Often there is, as illustrated by this series of videos we did for Elkhart Brass a few years ago. Elkhart Brass manufactures equipment for the firefighting industry. And while it is easy to focus on specs and statistics such as water flow and ease of deployment, what is really important to firefighters is that they have the right equipment to save lives.
To some, focusing on emotional connections may seem like the soft side of marketing communications. It doesn't have enough of an edge or clearly articulated statement of facts and features. I disagree with that kind of thinking. If anything, effective story telling is actually more persuasive because it presents the ultimate proof of performance – real life, relatable and relevant personal experiences.
To get our latest articles when they are posted, please subscribe by e-mail or RSS.