In Need of a PR Boost? Take to the Field.
Annual Army-Navy Game Produces Winners Regardless of Outcome
While generally a meaningless game in the big picture of big-time college football – held a week after the drama of the conference championships have played out and the BCS Bowl invitations sealed – the Army-Navy game is nevertheless must-see TV for me. It's reality TV at its finest – with players and coaches from each of these esteemed academies putting absolutely everything on the line in order to claim bragging rights over their military rival for the next year. In that sense, I think the game's outcome means more to these players than those participating in the Ohio State-Michigan; Florida-Florida State or, yes, even the Notre Dame-USC rivalries.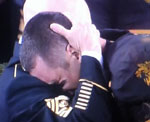 Witness the raw emotion on the face of Army senior quarterback and captain, Trent Steelman, in his last college football game ever, after a late fumble sealed the fate of the Cadets and sent them to their 11th straight loss at the hands of the Midshipmen. I'm sorry. I don't see that type of reaction from the losers following any other college football game. And why should I? Many of the stars at these high-profile programs are moving on to bigger and better things in the NFL – not to a military outpost in the Middle East.
Yet even in defeat, the US Army couldn't have looked better on Saturday. In fact, it was a banner day for all branches of the US armed forces. If you watched even a quarter of this game – you witnessed a marketing assault on the senses. It started with an inspirational pre-game feature on CBS highlighting Musicorps, a program that uses aspects of music to help heal wounded and disabled veterans both emotionally and physically. And, of course, there were the obligatory high-impact recruiting commercials for both the academies during almost every break in the action.
But the real hard sell was saved for the live broadcast. Watching hundreds of our nation's best and brightest military men and women, clad in their decades-old formal dress uniforms, cheering in support of their gridiron classmates was priceless – not just in emotional impact but also if measured in media dollars. Factor in the sporadic glimpses of cannons, flyovers and candid shots of high ranking leaders attending the game – including Vice President Joe Biden – and you have one huge, made for TV, military rally. There were so many American flags visible at Philadelphia's Lincoln Financial Field that it gave the stadium a Fourth of July feel on the Eighth of December.

If you were a high school teenager, it made you want to run through your TV to apply at West Point or Annapolis or, at the very least, enlist. For adults watching at home, it provided a temporary salve on the scars exposed by the recent General Petraeus scandal as well as the well-publicized and shockingly high number of sexual abuse reports that continue to plague all branches of the military.
But aside from all the staged pageantry that took place during the broadcast and in the stadium is the fact that a real college football game was taking place. A game featuring highly unknown, marginally talented players (in the grand scheme of major college football) arguably battling harder during these 60 minutes than you would see players doing so during any other college football game. Every play. Every second. To me, that is always at the core of what makes this game so special … and so effective as a critical promotional tool for both the Army and Navy.
So while Army must wait until December 14, 2013, for another crack at breaking their decade-old losing streak against the Midshipmen, it can rest assured knowing that the positive vibe resulting from this game will continue to rack up victories on their recruiting ledger as well as in the all-important court of public opinion.
To get our latest articles when they are posted, please subscribe by e-mail or RSS.