A Real Power Play: The Art Institute of Chicago Scores with Stanley Cup Connection
One of the best promotions I've seen recently is the Art Institute of Chicago's tie-in to the Stanley Cup Finals. The iconic lions at the museum's entrance are now sporting huge Blackhawks helmets. Social media posts chronicled the outfitting of the lions. Other posts feature famous works of art, such as Woods' American Gothic and Monet's Stacks of Wheat similarly adorned (only in the virtual world, of course). I've been a fan of the Art Institute, both the entity itself as well as its marketing. In my opinion this effort really stands out.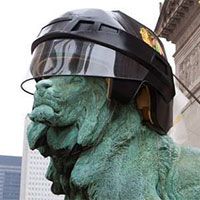 Besides the fact that this promotion is a lot of fun, I love that it doesn't necessarily follow the rules. In theory, if you were planning to communicate with art museum attendees and supporters, would you think that utilizing a sports reference would be a successful tactic? Going back to Marketing 101 and the rules of defining and understanding your target market - their preferences, habits, the messaging style that will really speak to them – this might sound like a questionable tactic. This is an audience that usually receives more formal communications about exhibit openings and special member receptions. Not to mention that famous works of art are typically discussed in a serious and reserved manner (of which pasting helmets onto paintings definitely does not qualify).
There are probably very few Chicago institutions that did not ask themselves how they could capitalize on the opportunity presented by sharing a city with one of the teams in the Finals. While the Art Institute may not be top of mind as the most natural fit to do so, that very fact is what gave them the ability to do something so creative. The dichotomy between the art world and a sport famous for bearded brawling players makes the museum's slant on the traditional "Go team" message so much more interesting.
And while I can only speak for myself, the Art Institute has been successful this week in reminding at least one member to renew their lapsed membership. Go Hawks!
To get our latest articles when they are posted, please subscribe by e-mail or RSS.