The Risky Gamble of Deep Discounts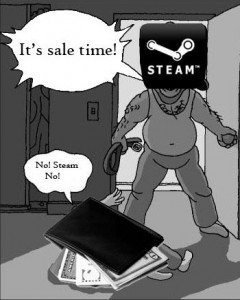 Over the holidays and several other times throughout the year, the largest online PC gaming store, Steam, has week-long sales where videogames are discounted by as much as 75-90%. For PC gamers, this results in a frenzy of purchasing, since games can be bought for ridiculously low prices. The whole event has spawned online memes and must be raking in tons of profit.
Since it's run by a private company, Steam never releases actual sales figures, but the graph below shows the effect of the summer sale on one popular indie game. It would be very hard to argue that the impact of the deep discounts on sales is anything but amazing.

However, running consistent sales like this can be risky. While these sale periods probably cause me to purchase way more games than I would otherwise, it also impacts my normal purchasing behavior. For instance I rarely, if ever, purchase games unless there's a sale going on. When a game is released, I'll typically wait for the next big sale to actually make the purchase. They've set the expectation that I should only pay half or a quarter of the retail price for a game, so that's all I'm willing to pay. In effect, they've lowered the perceived value of their product. Why would I pay $60 for a game now, when I could wait a few months and pay $15 or less?
I've written about this before, but I think it's worth repeating: it's important to be careful when chasing after customers with discounts. It's easy to accidentally lower the value of your product, and make it very difficult to sustain a profit.
To get our latest articles when they are posted, please subscribe by e-mail or RSS.