Social Media - Should I or Shouldn't I?
It is pretty difficult to go even a single day without either hearing about or getting involved with social media like Facebook, LinkedIn or Twitter. With its increasing popularity comes the questions of who should be participating in it and is it relevant to business marketers? While I am not going to sit here and tell you whether or not you should be participating, what I am going to do is provide some statistics that will hopefully make your decision a little easier.
For those who may have been in hibernation the last five years, social media are online technologies and practices that enable people to share opinions, insights, experiences and perspectives. It can take many different forms including text, images, audio and video. Facebook, LinkedIn and Twitter are just a few examples. Others include blogs, podcasts, social networking sites such as MySpace, YouTube (video sharing), Flickr (photo sharing), plus many more that allow users to interact with one another.
The four most popular social media sites in 2008 according to comScore included Blogger with 222 million unique worldwide visitors, Facebook with 200 million, MySpace with 126 million and WordPress with 114 million. YouTube, Flickr and LinkedIn followed with 100 million, 64 million and 11 million unique worldwide visitors respectively.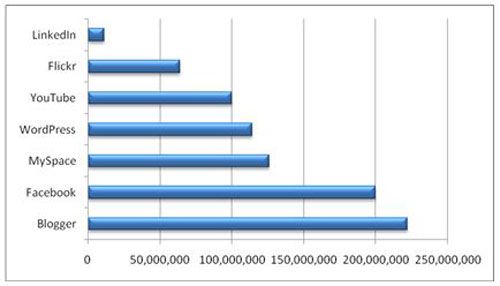 This information can be viewed in more detail for a few of the social media sites mentioned above. The charts below show the demographics of Facebook, MySpace, LinkedIn and Flickr by gender as well as age.








What these charts don't show however, is how quickly the 35 years old and older segment is growing. Most people assume that only younger people use social media, yet Facebook says its fastest growing demographic is actually 55-plus.
A data tool that I have found to be extremely helpful in learning more about how these different age groups interact with social media can be found here. Through this web site, you can build a profile specifying age, country and gender to discover how your target market is using social media. Forrester's Social Technographics® data tool classifies consumers in six overlapping levels of participation.
Creators – Creators make social media content by writing blogs, uploading photos and videos, etc.
Critics – Critics respond to content from others by posting reviews, commenting on someone else's blog, etc.
Collectors – Collectors organize content for themselves by using RSS feeds and tags for example.
Joiners – Joiners connect in social networks such as MySpace and Facebook.
Spectators – Spectators consume social content by reading blogs, watching videos, listening to podcasts, etc.
Inactives – Inactives neither create nor participate in social media of any kind.
This data tool as well as the charts and graphs above will give you a better understanding of how and if your target market is using social media. These can then help you decide whether or not you should be participating. Once you decide to step into the social media world, the first thing you need to do is consider who you want to reach and what your objectives are. Based on these strategies, you can then decide which social media sites will best serve your needs.
To get our latest articles when they are posted, please subscribe by e-mail or RSS.