The Media Kit: An Oldie, But a Goodie
With email and social media at our fingertips, why bother with the hassle of media kits? In recent years, it seems as though the traditional media kit has gone extinct. Press releases are sent to the media by email and influencers are pitched through Twitter and Facebook.
For a recent client project we decided to stir things up by surprising green journalists and bringing back nostalgia for seasoned veterans. As McDonald's® Mighty Wings® hit restaurants in mid-September, press in northern Indiana and southwest Michigan found Mighty Wings at their desks. Journalists are bombarded with emails every day and that delete button is pretty easy to push. But a press kit on your desk? You're definitely going to open it, even if it's just out of curiosity.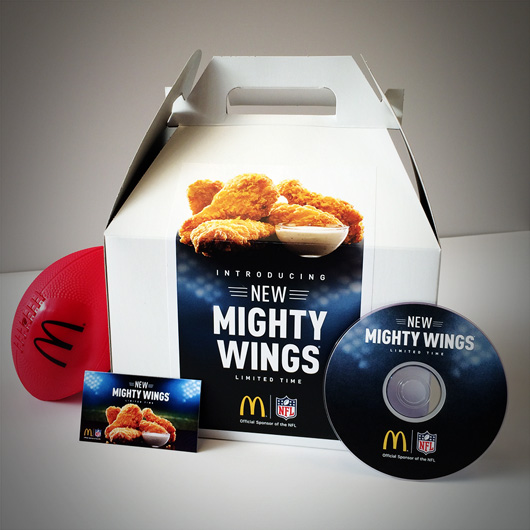 In the kit, shown here, we included the staples of a traditional media kit: a printed and digital copy of the press release, product packaging, video footage and photos of the new product. But, we also threw in coupons for product sampling and a branded mini football to pump up the excitement about Mighty Wings and McDonald's partnership with the NFL.
Upon delivery, I saw the surprised looks on the faces of editors, radio DJs and news room personnel. I heard comments of praise and memories of the good old days. The Mighty Wings media kit definitely caught the eyes of the recipients garnering excitement and great buzz about the new product.
Even though they are rarely used in today's high-tech, fast paced world, a media kit can be the perfect way to break through the clutter – especially when used correctly.
To get our latest articles when they are posted, please subscribe by e-mail or RSS.