The World of Webinars
Washer and dryer. Computer. Cell phone. Technology has brought many conveniences into our lives over the years. Now, I have one more to add – webinars, aka Web seminars. These truly have become one of my top sources for learning new information. The majority of them are inexpensive and the best part is that I can attend them without leaving my desk.
Webinars have given me the opportunity to hear terrific speakers from all across the country without paying travel expenses. Most webinars even give me the ability to ask the speaker questions during and following the presentation. All I have to do is type my question in the little box. It's not much different than raising my hand at a seminar.
Recently, I attended the next technological advancement in webinars: the virtual conference. Far from the standard one hour, one speaker PowerPoint presentation, the virtual conferences I've attended have been half day events with a keynote speaker at noon and a choice of topics during the other timeslots.
Both virtual conferences I've attended were organized by MarketingProfs, a fantastic online marketing resource. I was amazed by everything I could do online at this conference. Once I logged in, the image below is the first thing I saw.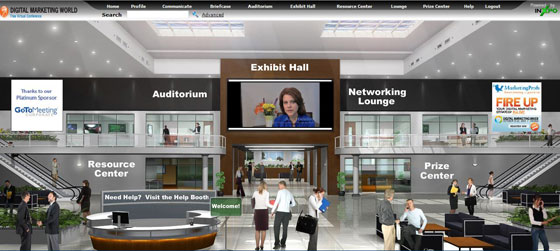 While here, I could click on any one of these areas and go to a new place in the conference. The Auditorium is where I went to actually view the different presentations. The Resource Center provided information in various formats – presentations, white papers, etc. – on topics ranging from marketing ROI to social media to e-mail marketing. I could browse through this information and download anything I found useful.
Two of the more impressive areas were the Exhibit Hall and the Networking Lounge. Once I entered the Exhibit Hall, I could hover over the arrows on either side of the screen and it would move to show me more booths as if I were actually walking through a live hall with exhibitors. At any time, I could click on one of these booths, where I could view information, download materials and even chat with someone from the company live.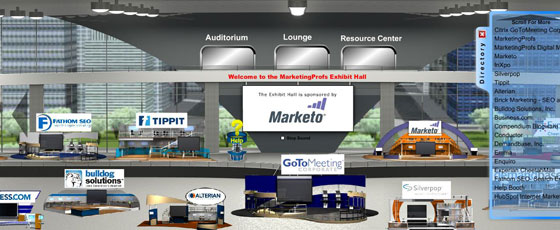 Another interesting area of the conference was the Networking Lounge. Inside, I had the ability to join different chat rooms and participate in the real-time conversations. This provided the networking opportunities that I would have found had I been at a live conference.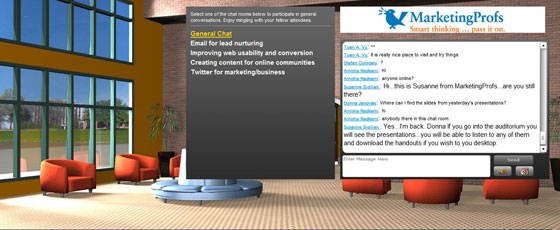 All in all, this is pretty amazing technology. Not only was it free, but it was also very convenient.
If you're the type of person who has limited time and a limited budget, but are still interested in learning new things and interacting with other professionals, you should really try attending a webinar, or even a virtual conference. Chances are your trade association or industry educational providers already offer these programs or have plans to do so. I know I've learned a lot by participating in the ones that serve our industry.
To get our latest articles when they are posted, please subscribe by e-mail or RSS.