First-Class
PR, Social Media & Events
Our public relations team is focused on increasing visibility and
marketing impact through a combination of traditional
media relations techniques, brand-aligned event marketing and
modern social media tools.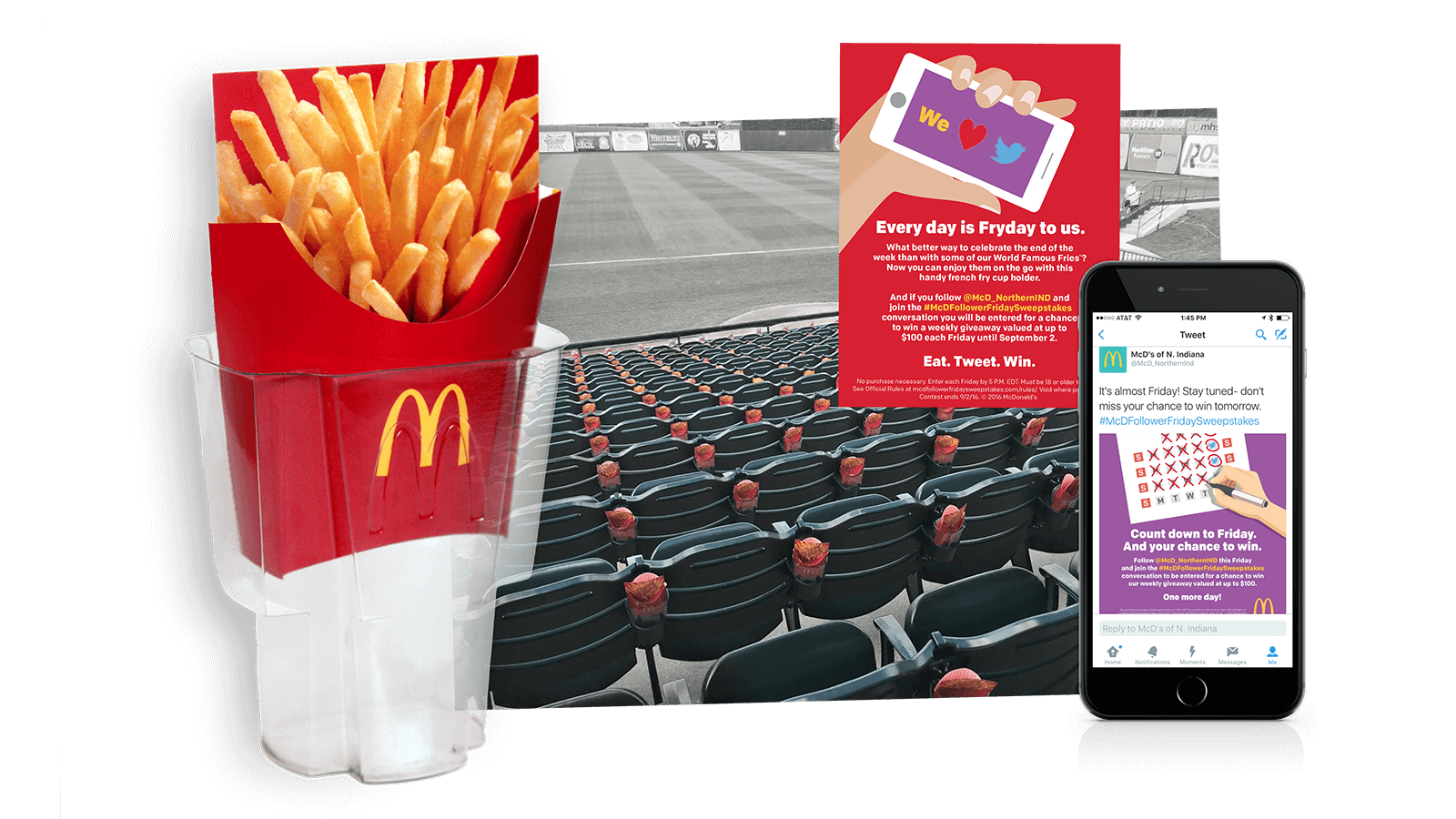 M
c

Donald's Fryday Promotion

As part of the summer-long McDonalds campaign, Villing & Company partnered with the South Bend Cubs during a Friday night ball game. The promotion featured a french fry carton caddy designed to fit in a cupholder – at the stadium and afterward in your car. The caddies, which were placed in every seat at the stadium, housed Twitter sweepstakes information and a coupon for free McDonalds french fries.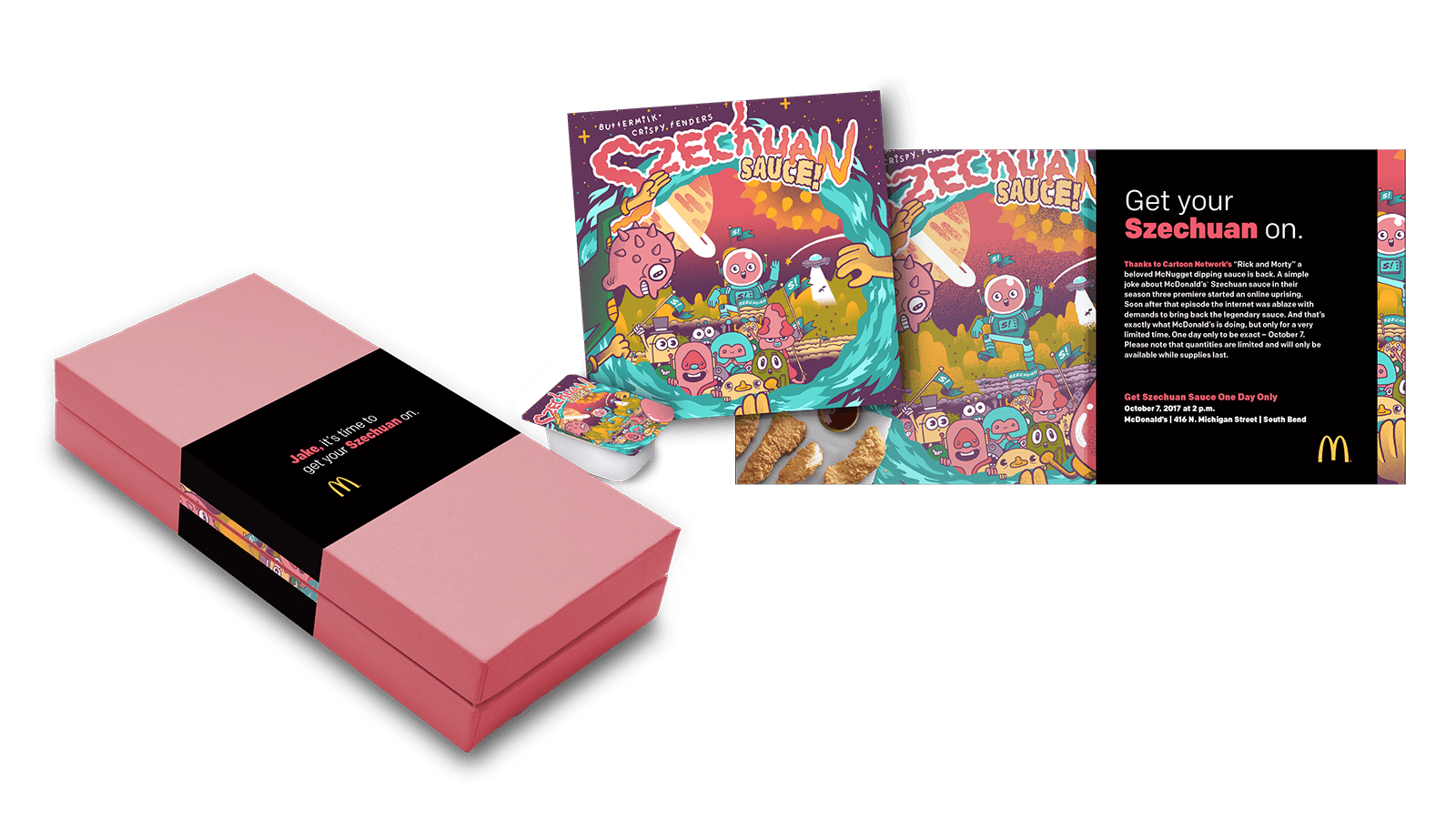 McDonald's Buttermilk Crispy Tenders PR
To promote McDonald's new Buttermilk Crispy Tenders, Villing & Company designed a media kit for South Bend Tribune Market Basket columnist Jake Brown. Inspired by the kit, Jake created and shared a video trial of the Tenders along with McDonald's Szechuan Sauce online and on social media.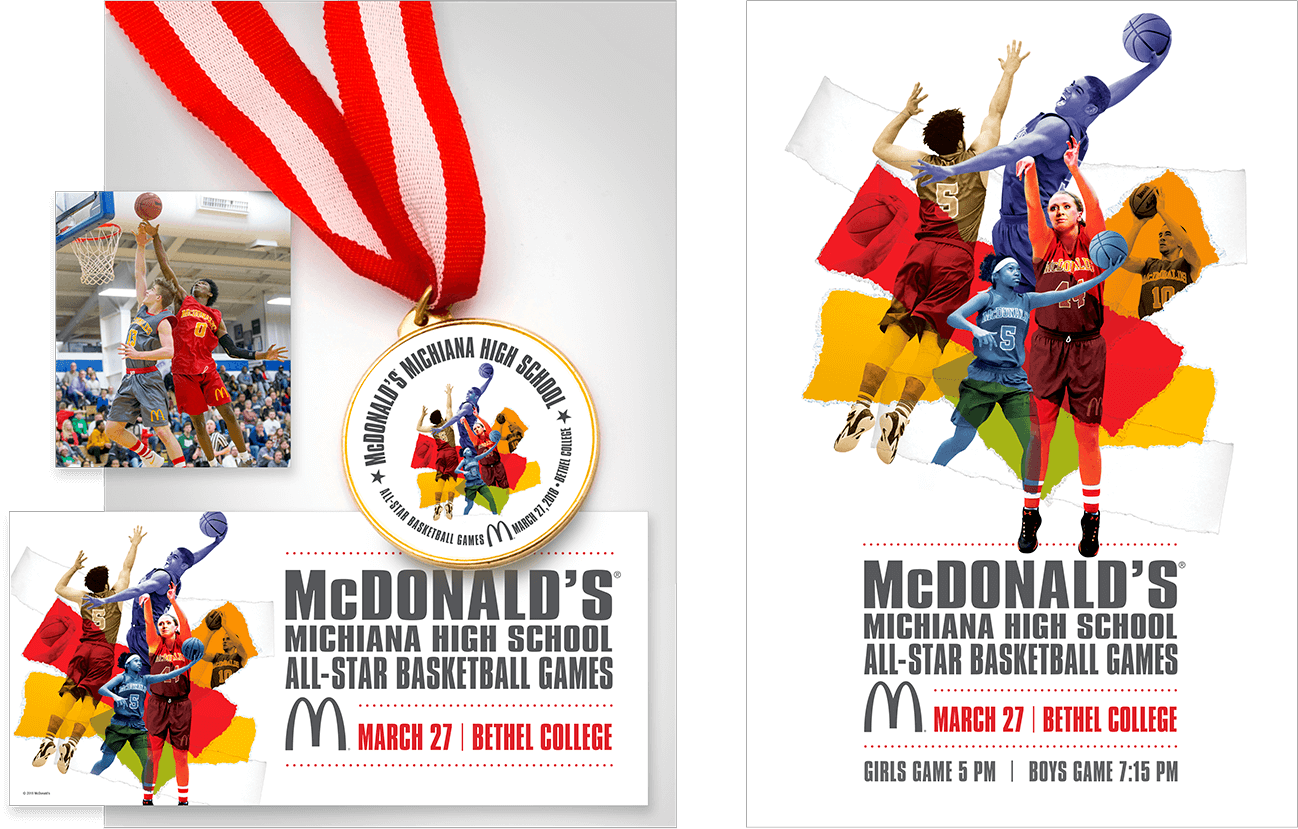 2018 M
c

Donald's Michiana High School All-Star Basketball Games

We produced creative for outdoor and posters leading up to the games as well as social media graphics used by community partners. For the game night, our creative team also produced a custom program using cohesive event branding. Our public relations team also garnered positive media interaction and coverage leading up to and following the McDonald's Michiana High School All-Star Basketball Games, including the player visit to the local Ronald McDonald House the night before the Games.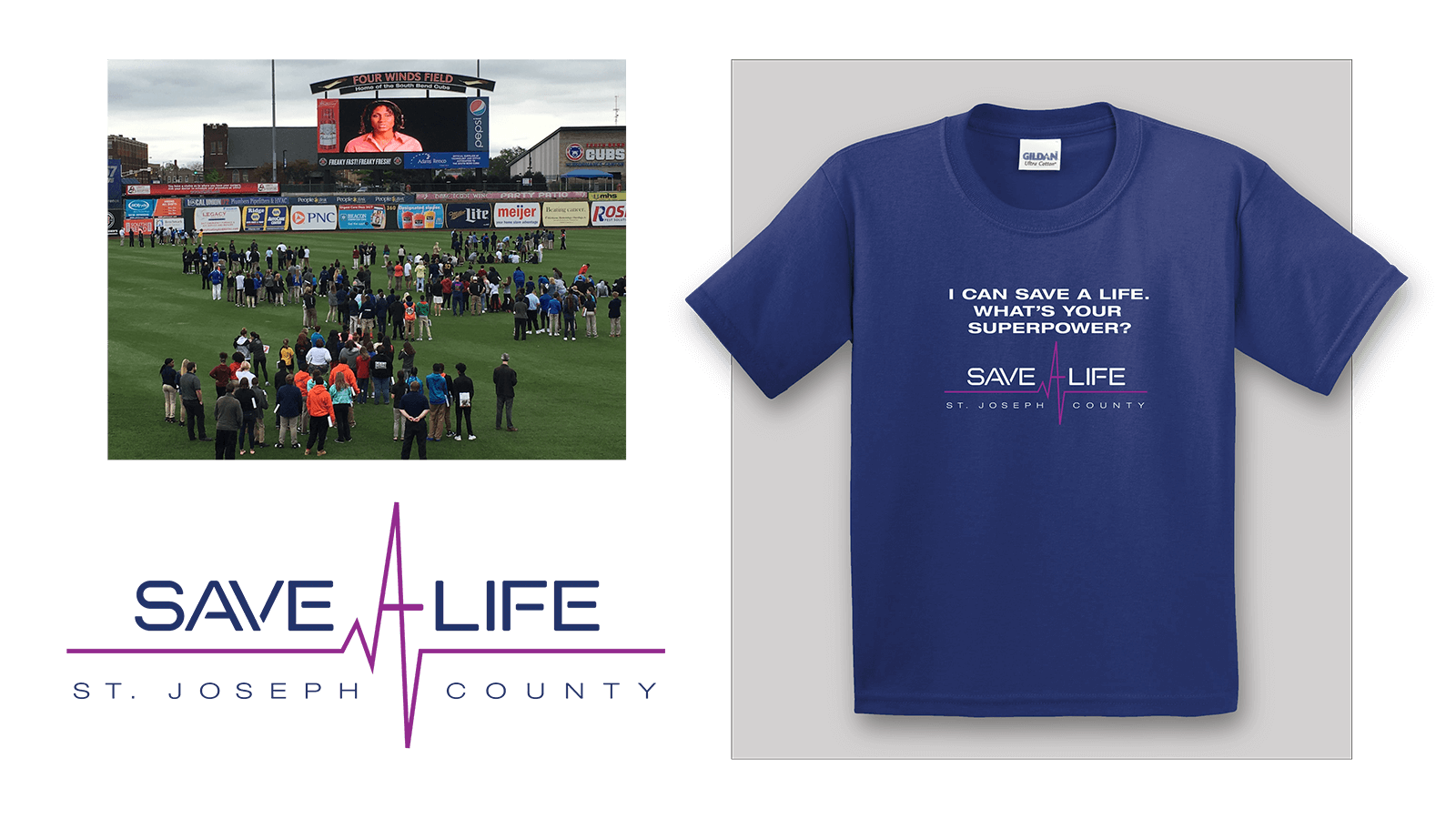 enFocus CPR Training Event
Prompt first aid such as hands-only CPR and use of AEDs has been proven to save countless lives. Villing client, enFocus, is spearheading a campaign to increase opportunities for bystander intervention during cardiac emergencies. The agency developed the logo, promotional T-shirt and provided media relations support for this event to train over 1,000 area eighth graders.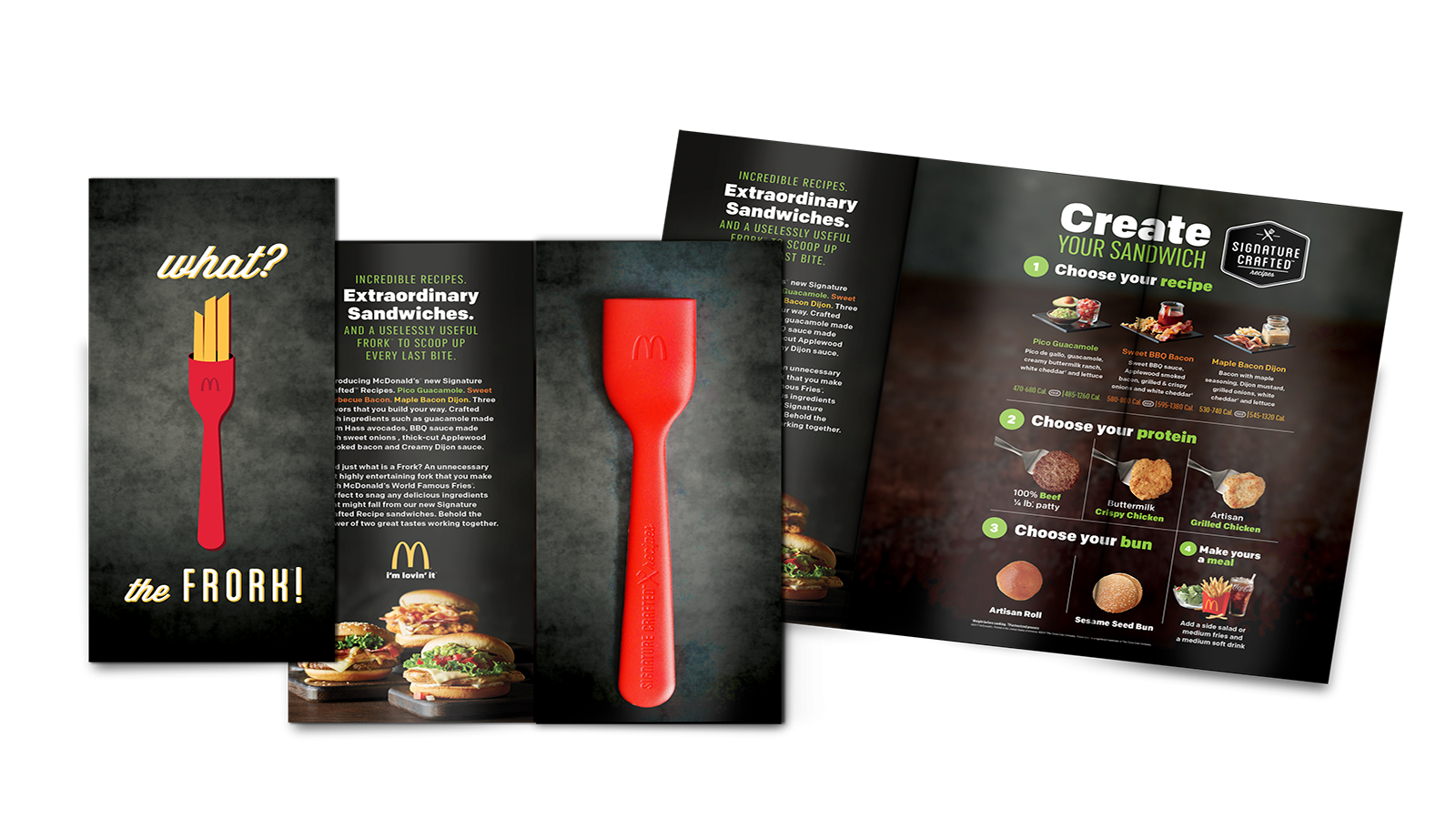 M
c

Donald's Frork Media Relations

To celebrate the launch of Signature Crafted Sandwiches, McDonald's gave away a limited number of uselessly useful Frorks (designed to hold actual french fries) to scoop up every delicious bite. Villing and Company created a kit promoting both the sandwiches and the giveaway, which was distributed to regional news media.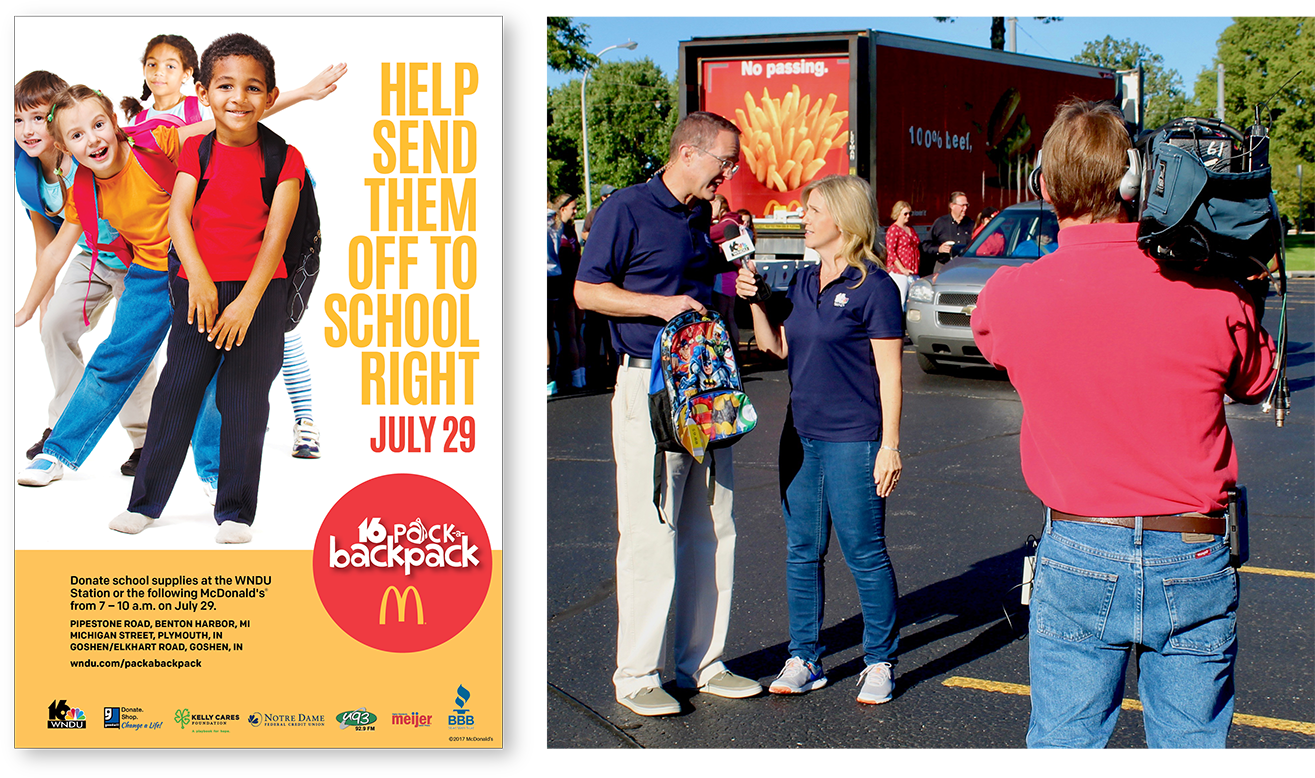 M
c

Donald's Pack-A-Backpack

As part of our services to McDonald's, we provided creative design, public relations and social media support for their sponsorship of Pack-A-Backpack – an annual event aimed at providing school supplies for area kids in need.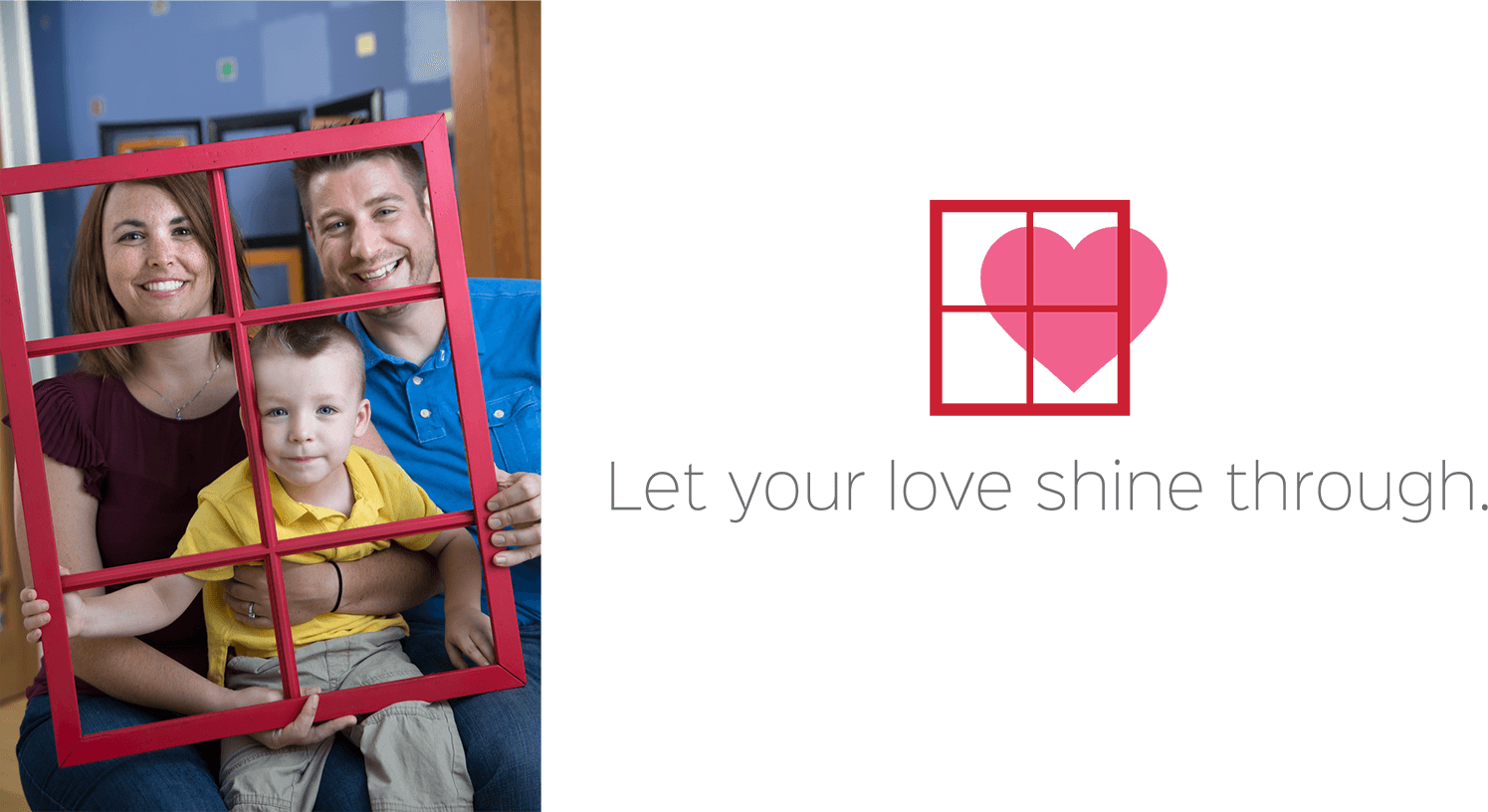 Ronald M
c

Donald House Charities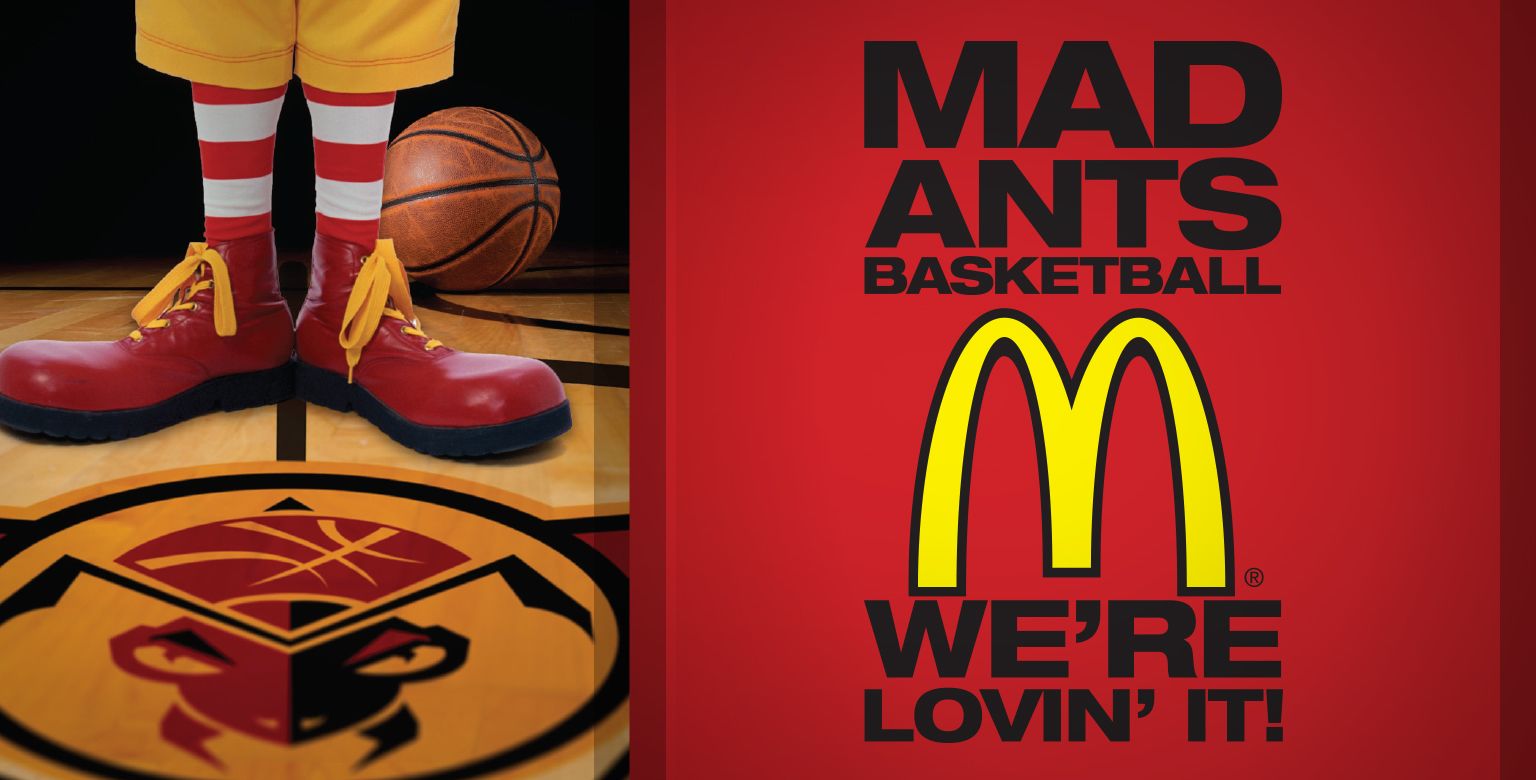 M
c

Donald's Sponsorship Support

Our regional McDonald's Co-op demonstrates its community support and builds local brand awareness through various sponsorship activities including this one with the Fort Wayne Mad Ants professional basketball franchise.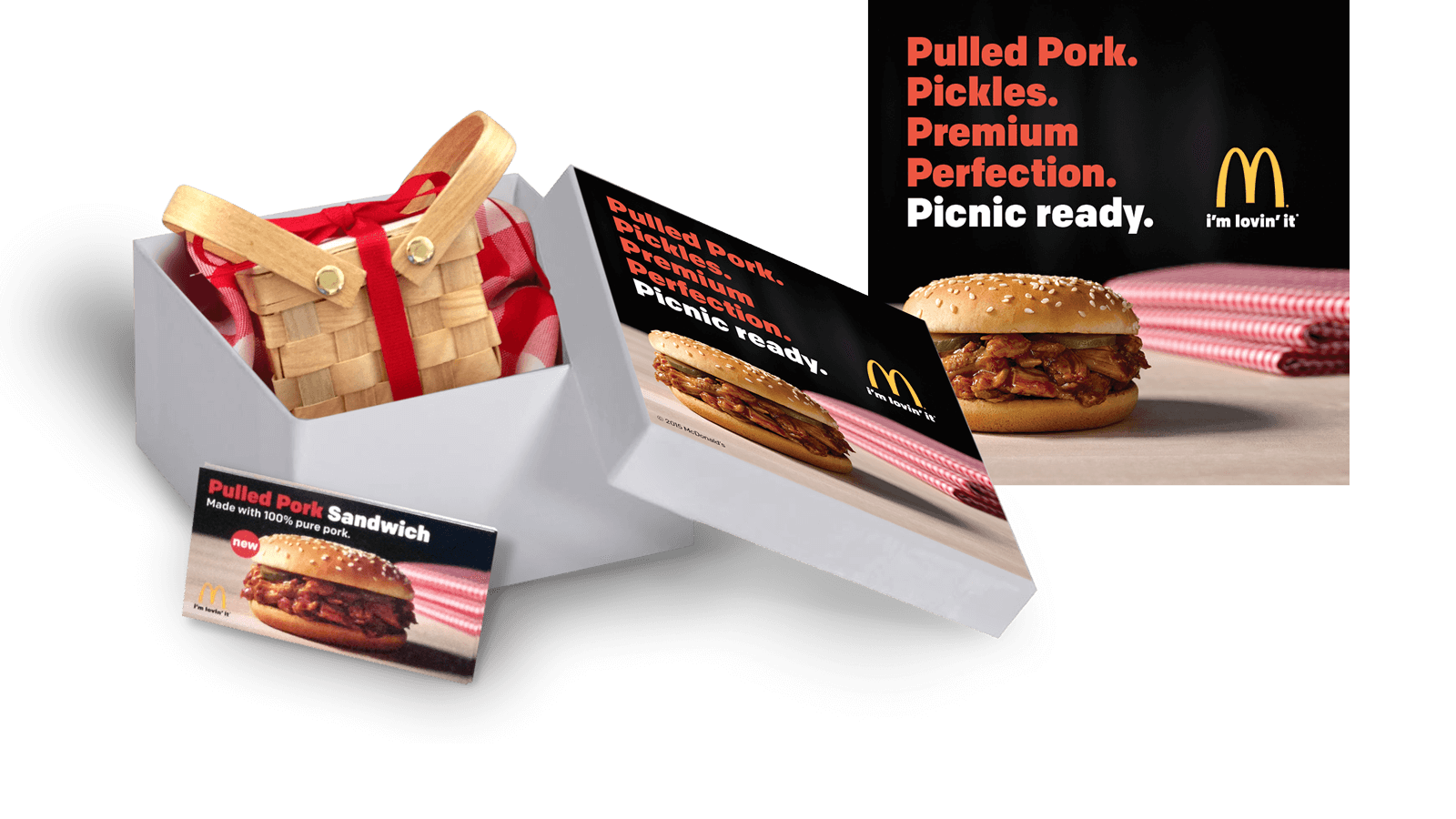 M
c

Donald's Pulled Pork Media Kit

When McDonald's® introduced the Pulled Pork sandwich, we produced a special 3D media kit. This picnic-themed box featured coupons and information on the new, limited-time regional offering.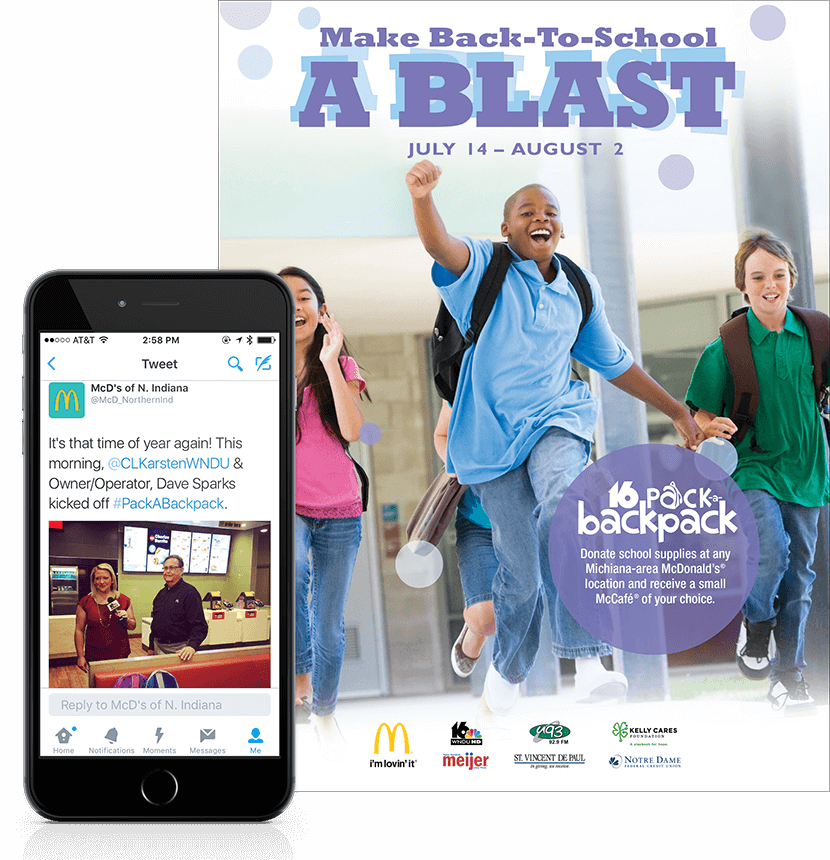 M
c

Donald's Cause Marketing Poster

McDonald's has been a long-time supporter of the popular Pack-A-Backpack drive in partnership with WNDU-TV and other organizations. This in-restaurant poster helped create recognition of the event and stimulate a consistently high level of donations from generous restaurant goers.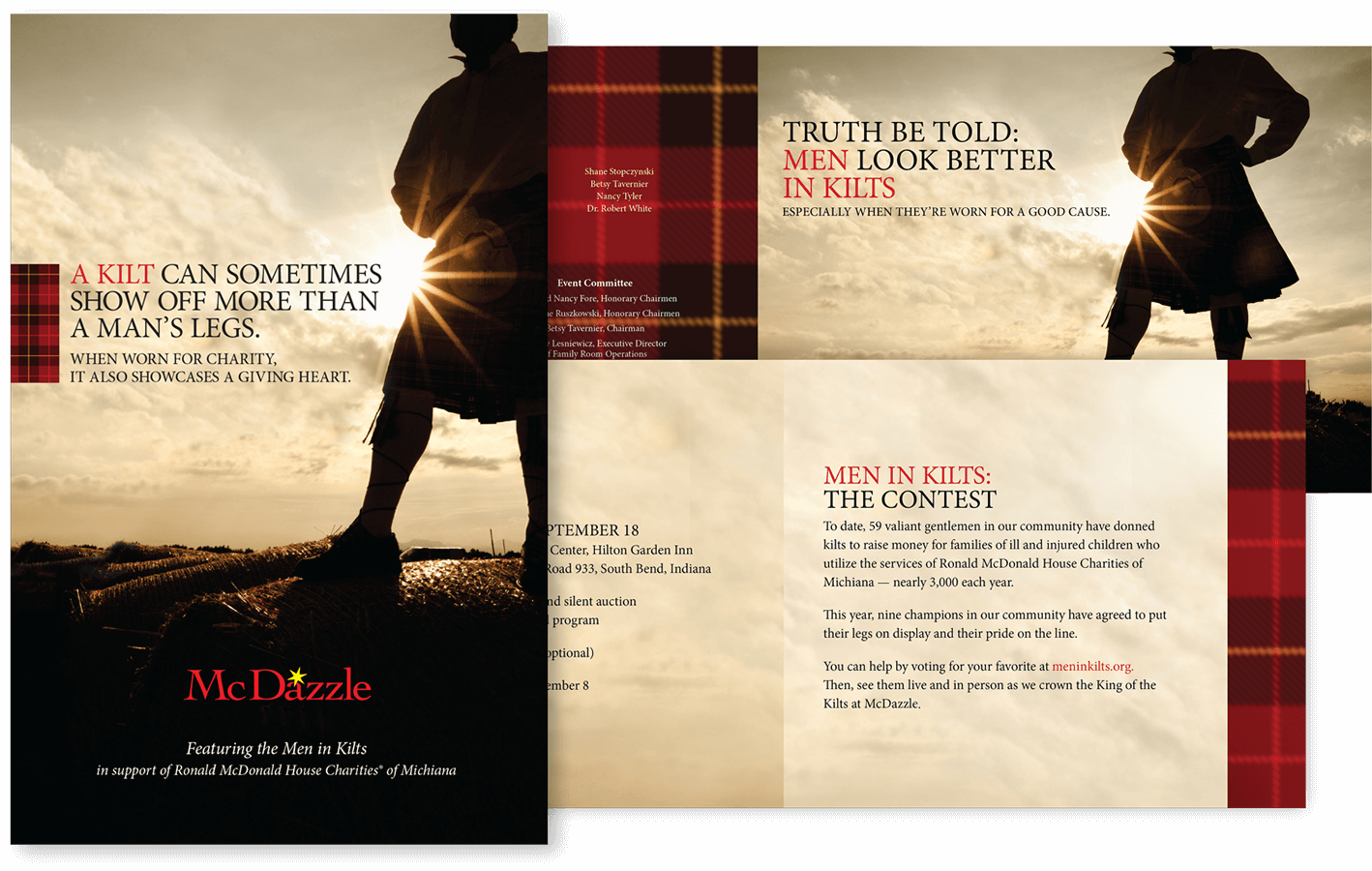 Ronald M
c

Donald House Charities Fundraising Dinner Materials

Men in Kilts has become an iconic element of the charity's major fundraising dinner and the inspiration for the event's promotional materials.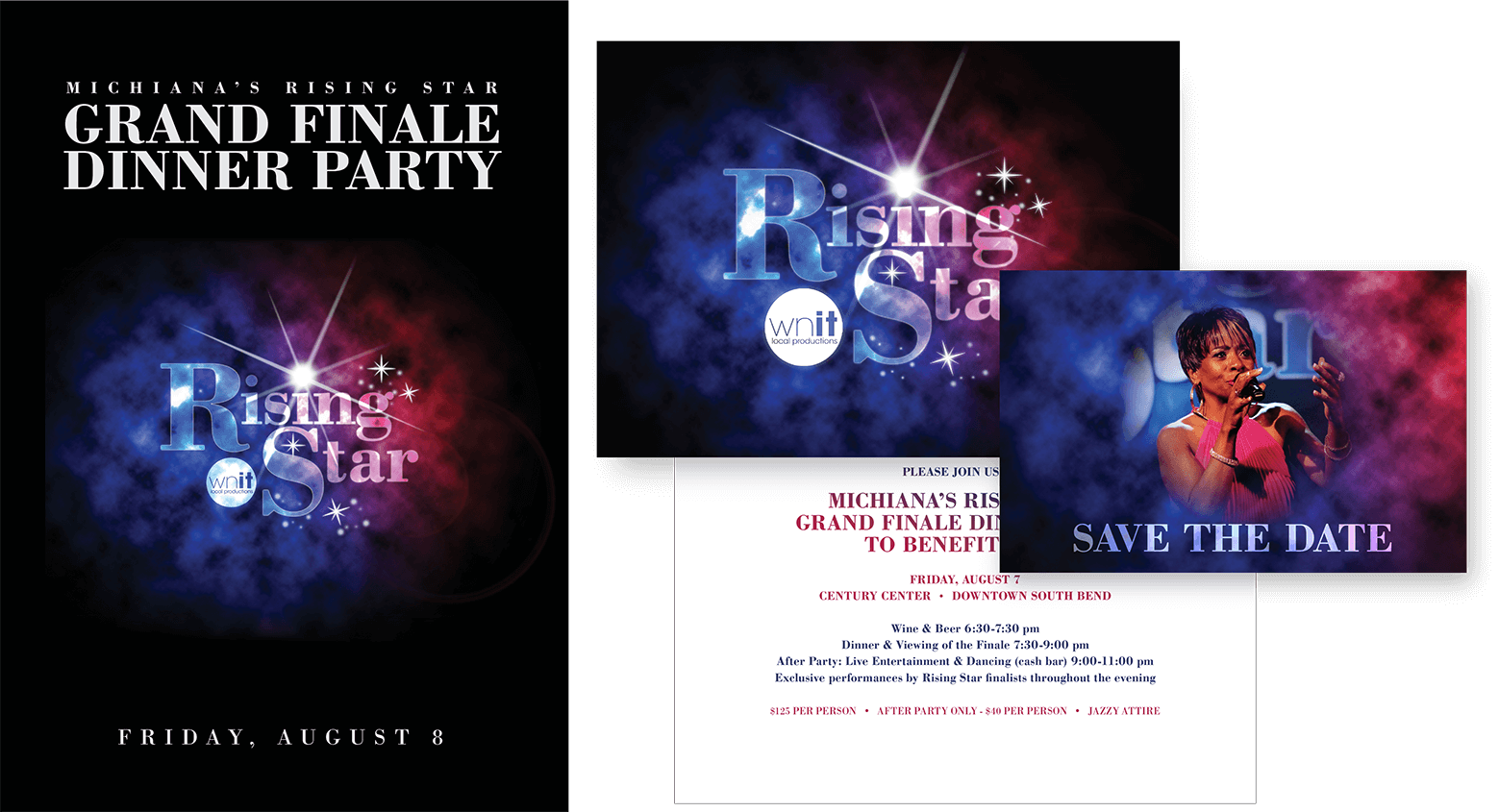 WNIT-TV Special Event Promotion
WNIT is the area's PBS affiliate and the "Rising Star" campaign not only introduces the community to talented performers but also helps support the station's fundraising efforts. Our annual involvement includes posters, dinner invitation, save the date cards, local print advertising and promotion.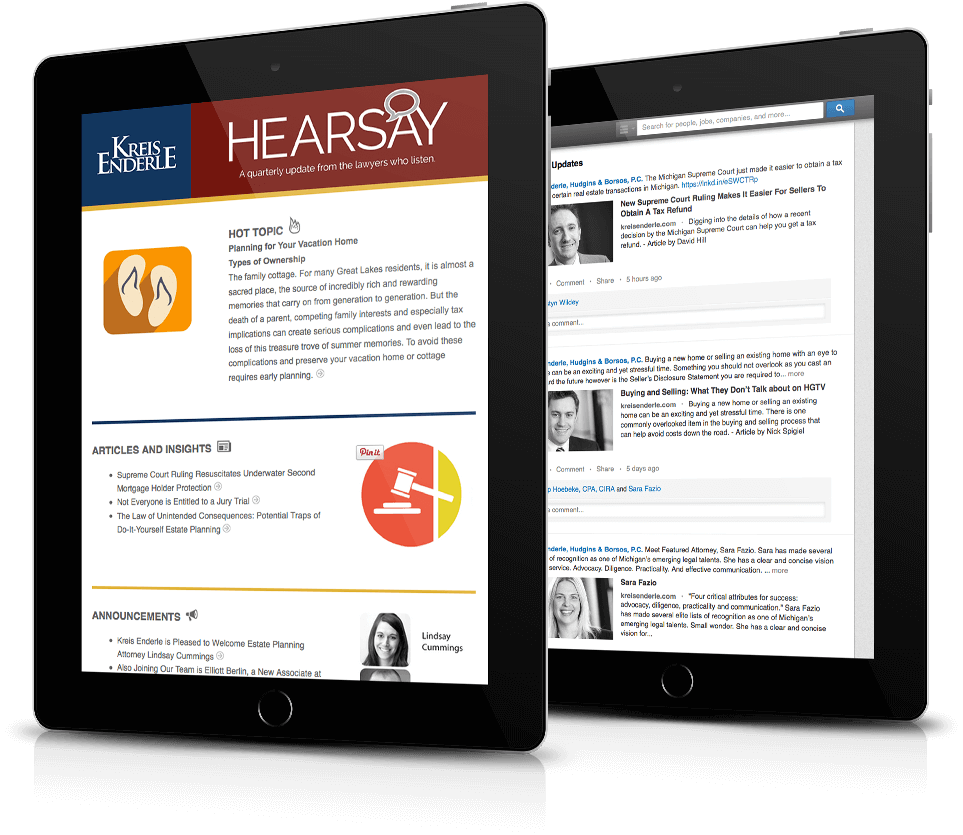 Kreis Enderle Quarterly Newsletter and LinkedIn Page
Villing & Company manages Kreis Enderle's LinkedIn company page with pre-planned topic calendars and a regular posting schedule. A quarterly newsletter is produced to share popular blogs, firm announcements and other relevant information.