Case Study: Goshen Community Schools
As part of our month-long focus on helping you plan for success, we took an in-depth look at the planning process and tactics used in a recent campaign for Goshen Community Schools. You can find out more about GCS by visiting GoshenSchools.org, and you can see more of our work by visiting our website.
"I believe."
In late 2015, Goshen Community Schools recognized the realities of an increasingly competitive environment. The state's voucher program and open enrollment were having a profound impact on many larger school corporations. Although Goshen was more than holding its own in maintaining its population base, the administration saw threatening clouds on the horizon and decided to be proactive.
Time was of the essence. In three months, a strategic branding and marketing communications plan needed to be produced so that the campaign could be launched in time to have an impact on fall enrollment decisions. The following case study provides an overview of the campaign development process, as well as examples of campaign components.
Marketing Communications Plan
Step one was developing a strategic branding and marketing communications plan. It began with research: in-depth conversations with key stakeholders including students, parents, faculty and staff and community leaders. Following a deep dive into secondary research and review of the competitive environment, the essence of the Goshen Schools brand was precisely identified and articulated. This, in turn, enabled all members of the school corporation to speak with one voice and deliver a consistent message to the community. As a supplementary benefit of the process, a new logo evolved to better reflect the progressiveness of the Goshen Schools.
Brand Positioning Line and Logo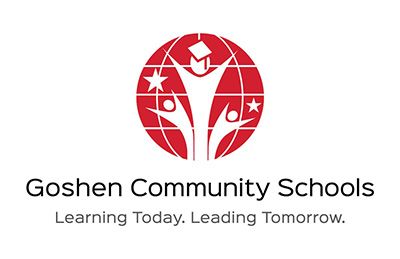 Villing & Company developed a new brand positioning line "Learning Today. Leading Tomorrow." as well as a new logo treatment. The line and logo reinforce Goshen's brand promise – the fact that they prepare their students personally and academically for the real world. As a result, the possibilities are endless. The logo is aspirational and features students from each of the three education levels with high school graduation serving as the pinnacle.
Campaign Slogan
Throughout the research and planning process, the sense of pride shared across stakeholders was abundantly obvious. It was clear the campaign needed to project that strong affirmation about the quality of Goshen Schools and the exceptional academic and life experiences it provides its students. Thus was born the simple yet powerful campaign theme "I believe."
:30 Television Ad
For the campaign to resonate with current and prospective parents and students, it needed to be absolutely "believable." This was not a message that could be conveyed through actors or slick professional voiceovers on television. The words had to come from the heart – and the mouths of the students and teachers in the Goshen Schools.
"Their research and strategic planning process revealed the uniqueness of our brand. And once we set the strategy, their creative work brought our brand to life, telling our story in a truly compelling, authentic way. The campaign really became a touch-point for our community."
Diane Woodworth, Superintendent
Goshen Community Schools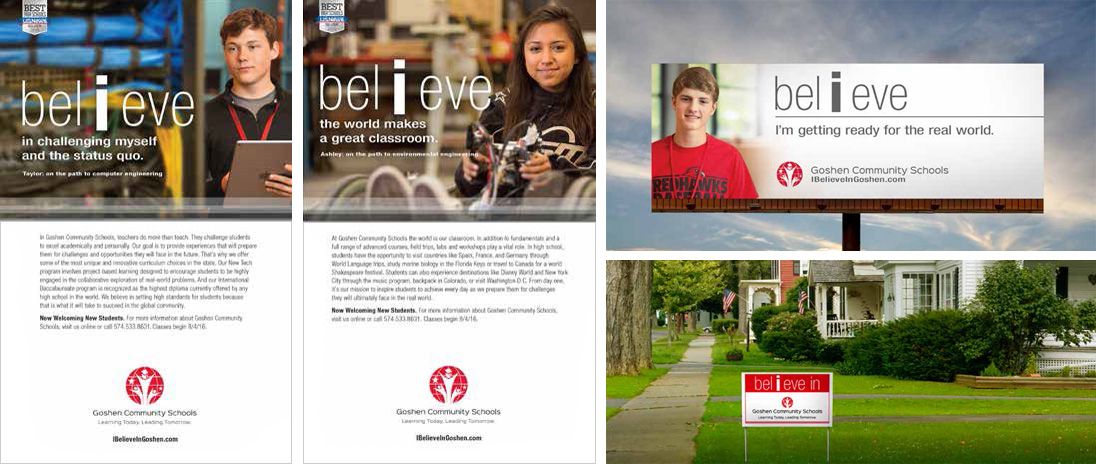 Points of Engagement
A :30 second television commercial, print or digital ad, social media post or other form of outbound marketing communications alone could not fully tell the exciting story of Goshen Schools. There needed to be a payoff, a point of engagement for the consumer. The campaign was strategically designed to drive visitors to "IBelieveInGoshen.com" – a branded splash page on the corporation's website. Here, the viewer can discover additional reasons to believe in Goshen Community Schools and access a compelling testimonial video.
This crucial component of the campaign tells the "why" of what makes Goshen Schools a special place – one that delivers on its promise of a student experience that truly makes graduates real-world ready.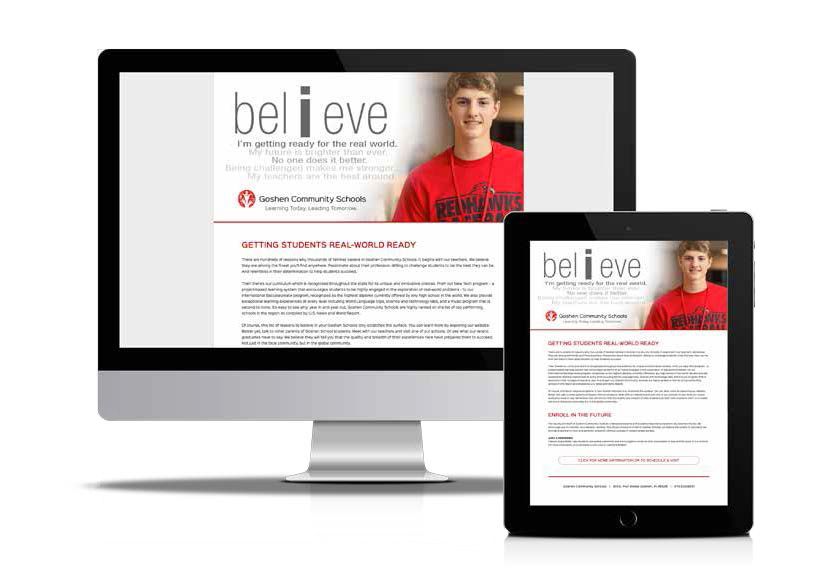 Insights Drive Results
At Villing & Company, we're voracious researchers and outstanding listeners. In tandem, these two traits allow us to identify critical insights that, in turn, drive strategic marketing communications plans and light the way to a successful campaign.
If you are interested in finding out more about how our process could uncover similar insights in your industry, feel free to give us a call.
To get our latest articles when they are posted, please subscribe by e-mail or RSS.