Pandemic advertising: Tone deaf or tone appropriate
In late March, I wrote about the importance of empathy in our role as marketers during the current Covid-19 pandemic. In this article, I am going to talk about advertising specifically.
Frankly, some advertisers get it. Some don't. Not to start with a negative, but in there are many advertisers in the latter category. We have a local car dealership that shall remain nameless, but I am appalled at the lack of tone sensitivity in its advertising. It's bad enough that the dealership's TV spots start out with every cliché possible about the safety of its customers being the highest priority, but then the commercials immediately go downhill. For starters, using the same stereotypical, hyper-promotional style of voiceover announcer that they've used for years hardly conveys a sense of empathy for all those who are suffering. Then the spots go on to remind viewers that they are still open for business. Now keeping the service department open is probably acceptable, but I don't think many people would consider a new/used car showroom is exactly an essential business.
Of course, this kind of tone deafness is not unique to local advertisers. To their credit, many national brands quickly reworked their TV spots to make them somewhat more appropriate to the current environment. Many digital advertisers, not so much. For the first few weeks of the pandemic, I saw numerous ads on social media for N95 face masks. This at a time when healthcare workers could not get enough of these urgently needed masks to protect themselves while on the front line of the battle against this deadly disease.
But even the TV advertisers who refined their sales messages fell into a level of sameness that, to my way of thinking, minimalized the depth of their sincerity. As noted in the Wall Street Journal and vividly demonstrated in this video, the lines "In these uncertain times" and "we're here for you" start to feel a bit trite. The production values of some of these commercials are elegant but that alone isn't enough to truly reflect the personalized empathy that people need and want to hear.
I know I am being a bit harsh on these advertisers. After all, they needed to move quickly and there are only so many ways to say some of these sentiments, but it would be nice if there was a bit more creativity in the delivery of this all-important messaging.
There are a few examples of getting it right. Specifically I am referring to ads like Guinness' Saint Patrick's Day commercial. Guinness recognized very early in the pandemic that they had a responsibility to encourage people to celebrate the holiday appropriately. One spot that my wife and I commented on was this commercial for Uber. How many advertisers would have the courage to say "Thank you" (for not using our services)? Other advertisers have taken a more public service approach like this digital ad for Mucinex. Note how much they downplayed their logo in favor of a strong health message.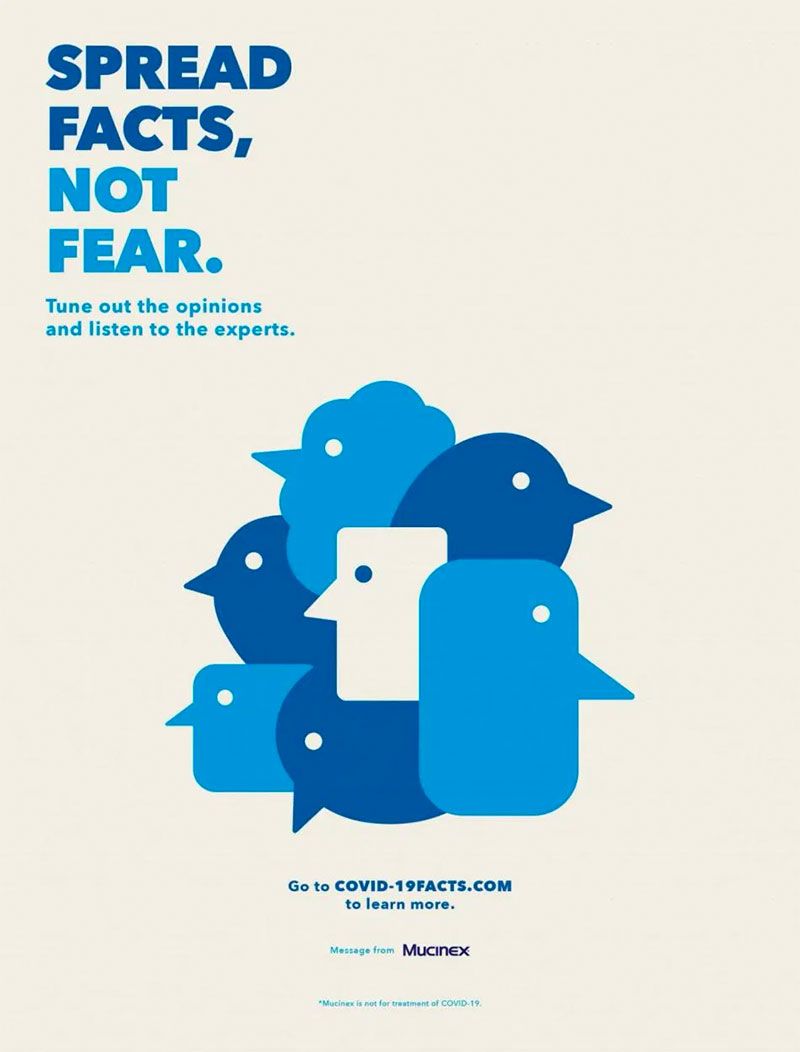 Although a bit more self-serving, Grubhub at least reminded people of the importance of supporting their locally owned restaurants.
In conclusion, I would offer this tangential comment. One of the assignments I made to my branding class at Notre Dame since the shutdown was to keep a journal about how the pandemic was affecting them personally and their relationship with their favorite brands. The journals were everything I'd hoped they would be. Thoughtful. Insightful. And very personal. Space does not permit me to go into specifics, but one takeaway was these students had become extra discerning about how brands are handling this crisis. The students thought the messaging from some brands was patently disingenuous. Conversely, where brands delivered a sincere and appropriate response to the crisis, the students felt a higher level of appreciation to those products or services.
To get our latest articles when they are posted, please subscribe by e-mail or RSS.